OBS nedan hypotes, dock med hög sannoliks grad, men samtidigt hantera texten nedan med försiktighet! Unfortunately (so far) Swedish and English is mixed below)
2023-08-13
Nedan är ett försök till (min egen personliga) komplex process system dysfunktionella hypotes för kommunikation med andra kliniker.
1- TMJ dysfunktion (temporomandibulär led). Dysfunktionen kan vara någon form av artrit, Till exempel Psoriasis artrit, eftersom mina fötter och fotsulor sannolikt har detta.
Below PDF-picture as above but more text in Swedish
TMD-Extososer-Svår Tinnitus
https://www.tmjsleepmacon.com/tmj-disorders.html
Temporomandibulära leden är "vägg i vägg med yttre öron kanalen.
Can TMJ Cause Tinnitus?
https://museumdental.com/can-tmj-cause-tinnitus/ 
The short answer to this question is, yes! TMJ can cause tinnitus. The TMJ is located just in front of the ear and share some nerve supply with ear. Inflammation and pain in the TMJ may alter the ear structure and the hearing perception causing abnormal sound hearing that does not exist. TMJ disc dysfunction may also cause clicking or crunchy sound that you and other people around you can hear.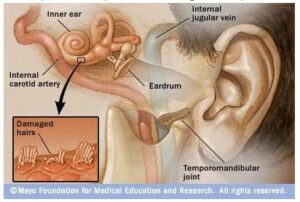 An interesting fact is that ear ringing may be the only TMJ symptom you have. The good news is that TMJ tinnitus is treatable and will go away following proper TMJ treatment. However, studies found that patients with TMJ disorders are 3 times more likely to have ear ringing. On the other hand, people with TMJ headache are 6 times more likely to experience tinnitus.
2- TMJ påverkar (a) öron/hörselgångens "öronbarn (2-4 års ålder) initierade" exostoser* i örongångarna och (b) trots undersökningar ej helt funktionell vänster trumhinna**, vilket sannolikt sammantaget skapade v. huvud sprängnings symptom (vHSS), permanenta svår hanterbar sedan oktober 2019 (Haft bullerskade tinnitus (inre hårceller) i 60 år, från min tid som pianist). Märkligt, men genom att hålla för öronlocken kan jag höra ett starkt oscillerande ljud, mycket starkare i vänster öra. Men detta ljud hörs ej när öronen är öppna under vHSS!
* Extern otit? Hörselgångsinflammation vid exostoser (benutväxter) kan misstolkas som uttalad svullnad av hörselgångshuden https://www.internetmedicin.se/behandlingsoversikter/onh/extern-otit/

"Although such exostoses are usually asymptomatic, they can cause recurrent otitis externa, ear fullness, hearing loss, ear pain, tinnitus, itching, and a sensation of blockage in affected ears on progression." Surfer's ear and external auditory canal exostoses https://academic.oup.com/qjmed/article/109/11/759/2631754 (eftersom alla ÖNH frågar om jag är dykare)
"External auditory canal (EAC) exostoses are multiple, benign bony growths within the external auditory canal in response to repeated exposure to cold water. They can cause conductive hearing loss and recurrent otitis externa" Bilateral External Auditory Exostoses Causing Conductive Hearing Loss: A Case Report and Literature Review of the Surfer's Ear  https://www.ncbi.nlm.nih.gov/pmc/articles/PMC5749938/#:~:text=External%20auditory%20canal%20(EAC)%20exostoses,recurrent%20otitis%20externa%20%5B1%5D.
"Otosclerosis is a disease of the ear that results in abnormal bone growth. These growths affect function of the middle ear bones, leading to issues with hearing – including tinnitus" Otosclerosis: A Surprising Cause of Tinnitus (That Can Be Cured)  https://treblehealth.com/otosclerosis-and-tinnitus/#:~:text=Otosclerosis%20is%20a%20disease%20of,issues%20with%20hearing%20%E2%80%93%20including%20tinnitus.

** Kan andas in litet genom trumhinnan.
Innan vHSS började så hade ÖNH-läkare problem med att öronvax som hade fastnat på min vänstra trumhinna. Efter mycket övervägande "drog" man helt enkelt bort vaxet från trumhinna. Några timmar senare började jag använda hörselapparat. Jag var alltså på sjukhuset inte för att åtgärda öronvax utan att utprova hörselapparat. Jag kunde bara använda hörsel apparaten i 2 timmar under mycket svåra symptom i form av kniv skärande snabb variationer i ljudform. Extremt obehagligt. Jag gjorde sen 2 försök till med hörselapparat eftersom jag tyckte att jag var kanske överkänslig. Men med samma resultat och har sedan dess inte använt hörselapparat som jag sannolikt egentligen inte behövde.
3- Under natten blir symptomen svårare efterhand under sömnen. Sista sömn uppvaknandet starkaste möjliga symptom. Samtidigt så ökar torrt och trånghet i näsan efter hand, mest i vänster osteomeatala komplex. Detta påverkar sannolikt eventuellt också bland annat tryckförändringar, möjligen förklarande de ökade vHSS symptomen. Ett annat skäl är att återaktivering av sympatiska system (inklusive Locus Coeruleus/NE) kan öäveraktiveras då jag har uttalat förhöjd NE och låg GABA (som evolutionärt skall "hålla styr" på NE, men också att Glutamat (precusor till GABA) är låg***.
Att jag har opererat innan näsan för basaliom typ III Glass, kanske inte har något med näsans funktionalitet och göra, men kanske kan ha det? Samtidigt så var man vid operationen synnerligen osäker om man skulle lägga nog inplantat eller låta det få spontan läka, vilket kan leda till att t.ex. septum påverkas. Tydligen så använder man något nytt operationsinstrument som man inte hade använt tidigare på någon patienter så själva operationen tog överraskande lång tid i förhållande till hur litet ingrepp man gjorde. Mycket tid gick till att de två klinikerna diskuterade hur man skulle göra.
***

*2023-01-27 Bo vS Neurotransmittorer
Adrenalin*         5.75 µg/g Crea  2,0 – 5,5
Noradrenalin*   45.42 µg/g Crea  15 – 36
Dopamin            207.94 µg/g Crea  130 – 240
GABA(*)             1.83         µmol/g Krea 1,5 – 5,0
Glutamat*          6.86              µmol/g Krea    8 – 25
Serotonin(*)      80.69                  µg/g Crea        80 – 190
SAMT om mitt förhållande till läkemedel (utan generellt kritik förstås i detta sammanhang):
Använder undantagsvis efter noga övervägande nyare, relevanta referenser läkemedelsförslag från kliniker. Har försökt (bli kokt regelbunden) med en Bensodiazepin som verkar via GABA A och eftersom mitt GABA system är lågt (och dess procusor Glutamat) samtidigt som Locus Coeruleus/NE och adrenalin är förhöjda – något som kan ha komplicerande negativ effekt på existerande dysfunktioner även generellt. Får alltför (anser jag själv) lätt biverkningar av "vanliga" läkemedel och försöker mera med mjölksyrebakterier m.m.