Nygammal Hypotes (uppdaterad idag 2022-05-23) mer precis hypotes är "NonTuberculous Mycobacteria (NTM) mastoiditis low-grade chronic infection in left ear (as well NTM influencing left knee and increased spinal dysfunctions, not discussed here)"
OBS – "left ear" hypotes delen kan kanske visa vägen även om det är annan mikroorganism och annat ben/vävnad i området (kanske Labyrinthitis*  eller yttre hår-celler exciterande inre hår-celler inom skadeområdet)? Se mer hur denna hypotes i ny skepnad plötsligt "emerged" (se mer nyare länkar om NTM, tex. spondylitis, RA,.. på NonTubercle Mycobacterium | BOAIM2: Bergvik Open Academia for Innovative Medicine Management och underflikar)
* https://www.medicinenet.com/inner_ear_infection/article.htm – https://www.medicalnewstoday.com/articles/323606#symptoms – https://www.healthdirect.gov.au/labyrinthitis – http://medcraveonline.com/JOENTR/JOENTR-02-00046.pdf
https://www.ncbi.nlm.nih.gov/books/NBK560877/
https://en.wikipedia.org/wiki/Mastoid_part_of_the_temporal_bone
Introduktion
Efter en hel del olika öron-relaterade experiment* (kommer att beskriva dem ingående i underflik http://carism.se/2021-22/my-experimental-intervention-work/nytt-perspektiv-pa-svar-tinnitus/mer-info/ – pågående ej klart än) associerade med mina Svåra Tinnitus Alarm Syndrom (STAS) kommer jag fram till en fråga som kan ha stor klinisk betydelse, givet detta diskuteras i den formella ÖNH-medicinsk-kliniska utbildningsmaterialen.
Observation: Det föreligger en stor skillnad vid Stängd-Öron-Lock (SÖL) i vänster (där mitt STAS genereras) och mitt högre (som representerar mitt 60-åriga hanterbara (!) bullerskada tinnitus. Men båda ligger inom samma frekvens kluster område som tydligt syns på alla Audiogram genom åren (troligen också samma som det från c 1983 på KTH).
Hypotetiska orsaker: Av ovan kan vi anta att något förstärker 60-åriga hanterbara tinnitus i vänster öra men ej i höger. Finns flera olika möjliga förklaringar som orsakade STAS i slutet av oktober 2019 ; bl.a.
(a) vid bastubad – hade ej bastu badat på fler år, men gjorde det just före STAS debuterade – uppstod extremt sprängande i huvudet, avbröt förstås men efter c 2 timmar klingande det av – en möjlig förklaring är att en mikroorganism som stimuleras av värme-fukt kraftigt reagerade (därför är Non-Tuberkulos-Mycobakterie, NTM, en möjlig orsak som kan ha initierats 1988 då jag arbetade på Universitetet i Sevilla .. märkliga reaktioner/symptom där som vi hemkomsten utvecklade c 40 C kroppstemperatur under en dryg vecka (sedan skov då och då med märkliga symptom under åren). Trots intensiva tester blev ingen mikroorganism identifierad. Vilket gäller idag för NTM, men ej för Tuberkel Mycobakterien. None-Tubercle Mycobacterium | BOAIM2: Bergvik Open Academia for Innovative Medicine Management och mer nedan inklusive bilden
(b) vid ÖNH-Hudiksvall rensades (i samband med utprovning av hörselapparat) vax. I vänster öra hade vax "klistrat" vid trumhinnan så man fick dra loss det (som jag uppfattade!), men kraftig smärta. När sedan jag provade hörselapparaten (som förstärkte även det bullerskadade området (som jag uppfattade!) så uppstod just det svåra ljudet som skulle följa mig tills i dag! MEN inte på en gång. Jag avbröt första gången. Stod ut c en timme, tänkte det vara kanske jag som var för känslig, men skulle anpassa mig. Sedan vara allt lugn! Efter ett par månader önskade jag prova igen men med mindre förstärkning. Samma hände igen (se ovan). En tredje gång önskade jag prova med maskering. Samma igen. Men c någon vecka senare initierades STAS.
(c) Möjlig läkemedelspåverkan. Rinexin. Mycket konstiga symptom ganska direkt efter jag tagit första tabletten. Tänkte igen att det berodde på att jag är känslig … tog en andra som gav ökade, även kognitiva förvirringssymptom (aldrig varit med om liknande obehag).
Links
Otomastoiditis caused by non-tuberculous mycobacteria: report of 16 cases, 3 with infection intracranially https://pubmed.ncbi.nlm.nih.gov/26153833/ "Non-tuberculous otomastoiditis is a severe ear disease with challenging considerations, and should be treated aggressively in order to avoid morbidity."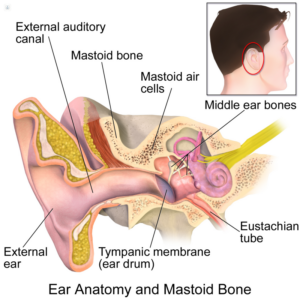 https://www.topdoctors.co.uk/medical-dictionary/mastoiditis
Emergence of Refractory Otomastoiditis Due to Nontuberculous Mycobacteria: Institutional Experience and Review of the Literature https://pubmed.ncbi.nlm.nih.gov/26689957/ "NTM otomastoiditis should be suspected if a patient has chronic refractory otorrhea and ear granulation tissue. Surgery, which is the mainstay of treatment, should be complemented with antibiotics. In those without temporal bone osteomyelitis, antibiotic treatment can be stopped after a dry ear is achieved."
AURAL TUBERCULOSIS https://journals.lww.com/otology-neurotology/Abstract/1990/05000/AURAL_TUBERCULOSIS.6.aspx
https://www.ncbi.nlm.nih.gov/pmc/articles/PMC4461848/
https://www.ncbi.nlm.nih.gov/pmc/articles/PMC7451667/
https://www.uptodate.com/contents/acute-otitis-media-in-adults
http://www.bjorl.org//en-tuberculous-otomastoiditis-in-patient-with-articulo-X1808869414746783
https://www.webmd.com/cold-and-flu/ear-infection/mastoiditis-symptoms-causes-treatments
https://www.sciencedirect.com/topics/medicine-and-dentistry/mastoiditis
https://www.webmd.com/cold-and-flu/ear-infection/mastoiditis-symptoms-causes-treatments
As there is much more links to insert here – more is to come!
Synopsis
Hypotesen ovan är utgångspunkten men vi kan inte utesluta att inte alla 3 möjliga utlösande orsaker ovan samverkar. Kunskapsläget kan knappast ge något svar här. Kan tillägga att just hypotesen utifrån "a" genererad av bastubadet som jag kom ihåg först när jag lärde känna till om komplexiteten i NTM, bl.a. beskriven av det man hos några USA-kliniker anser sig ha dokumenterat. Något som tills nu ej är väl förstådd och anses vara orsak till många symptom eftersom NTM (finns c 170-190 varianter) kan angripa ben, vävnad … utan att angripa lungorna. NTM är svår diagnostiserad och svår att behandla. Som bekant är också lepra en Mycobakterie variant.
Även om jag själv inte blir hjälpt av ev. lösning av ovan observationer, så är det ju många som lider svårt av Tinnitus utan att få hjälp. Helt enkelt eftersom detta kliniska område har en ytterst bristfällig system integrerad multifaceterade, multidisciplinär kunskapsplattform liksom också kvalitativt kliniskt erfarenhet, även om det internationellt uppenbarligen sker mycket sista tiden inom området!
Kan tillägga att den svåra form jag har permanent ännu) sedan 2,5 år är extremt svårt att leva med. I mitt fall har jag stor nytta av mitt kliniska arbete inom psykofysiologisk beteende/stress medicin (se t.ex. www.ipbm.se, www.stressmedicin.se och www.biopsychosocialmedicine.com) med mycket svåra, ej väl förstådda patientpopulationer.
* Mycket inspiration finns att hitta inom österländska traditionell medicin, t.ex. slå på den himmelska trumman " This technique, known as 'banging the heavenly drum' or 'sound the heavenly drum' (Ming Tian Gu), and is used to wake up your brain and stimulates your thinking processes. Beating the drum clears the mind, wakes up the brain and enhances your cognitive faculties. It is very useful when feeling your energy or concentration flagging and is also said to improve your hearing. When you are finished and take your hands off your ears and enjoy feeling like you just woke up refreshed and ready to work." https://inspireportal.com/the-tao-of-creativity-taoist-tools-to-help-your-writing-and-creative-work/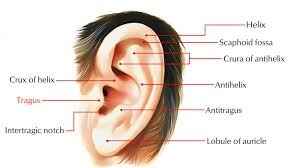 "Tap gently on your index finger with the same hand's middle finger, in a slow steady rhythm. Tap 12, 24 or 36 times and then release the fingers from the ears and rest. Tap both ears simultaneously or alternatively on each ear. Repeat the cycle three times. Ideally, you need to do this exercise one to three times a day, depending on the severity of ear ringing". https://allendaleacupuncture.com/2018/04/20/beating-the-heavenly-drum-qigong-exercise/
BvS 2022-05-18